There is a solution for those drivers who want a car that scores well in cargo space and overall fuel economy - the 2019 Honda Fit or the 2019 Toyota Corolla Hatchback. Both these vehicles are designed for the rough terrain and they are definitely family cars for the 5-door design. Drivers using these vehicles for transportation of one kind or the other will appreciate the easy loading and offloading that can only be possible with a hatchback door. That is not all, these cars are comfortable whichever position you sit and the level of technology woven into their systems could keep you entertained for hours. Any reason why you would prefer one of these cars over the other? Well, let us lay out some aspects to compare before we go in that direction;
Overview
Would you believe that neither the Honda nor the Toyota offers an upgrade of their standard engine for these 2019 models? They both, however, provide alternatives to the type of transmission that a car owner would like to have.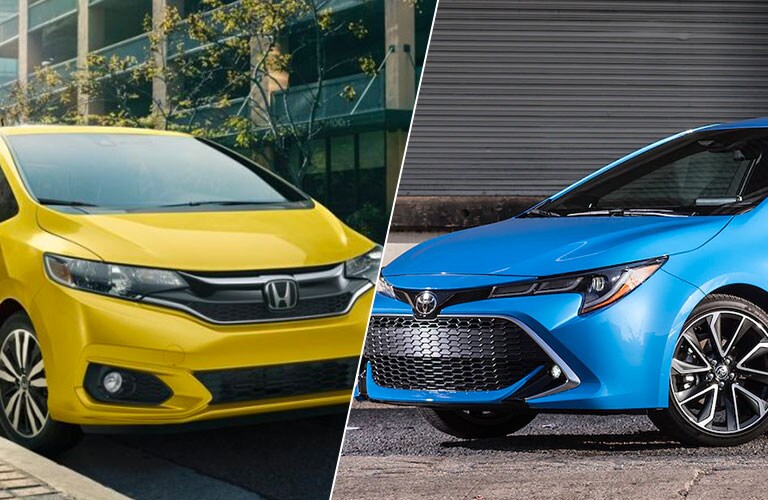 While the Honda Fit has a CVT on the sports mode with dual mode paddle shifters with the top trim level, the Corolla Hatch has a CVT but lacking in paddle shifters and sports mode.
Interiors
If you have a family of 5 or require space to sit 5 people inside a car, either the 2019 Honda Fit or the 2019 Toyota Corolla Hatchback can be a suitable match. Those riding in the Honda will, however, find that they get to enjoy more space than the Corolla offers. Some of the areas where occupants of the Honda have an extra room advantage are; front headroom and second-row legroom. When you have more cargo than the regular cargo space provided, no need to spoil your seats by placing heavy loads on them. You can simply fold over the rear seats of the Honda but this option is not available for Corolla users.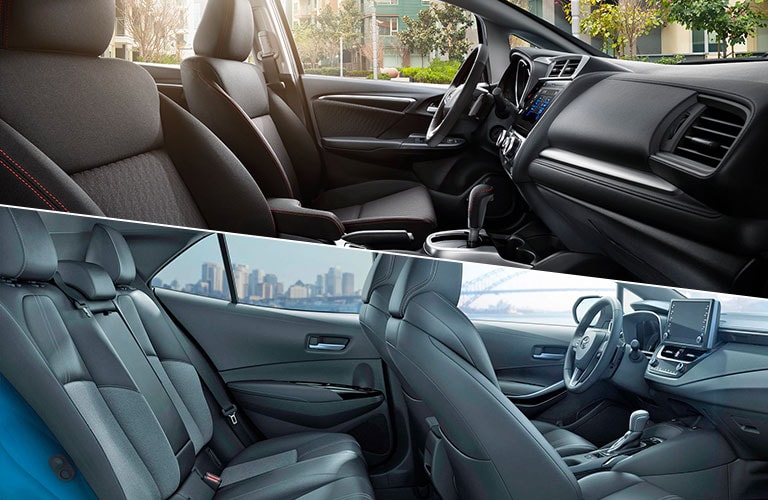 There is not a dull moment when riding inside the 2019 Honda Fit or the 2019 Toyota Corolla Hatchback because both are fitted with a colored entertainment screen. If you choose the Honda over the Corolla, you get to enjoy Android Auto™. It is a fact that these two vehicle models have well-thought-out interiors but the Honda offers more comfort with the available resources than the Corolla. It takes time to convince most people that the Honda is a notch higher than the Toyota but you can save time by taking a test drive at one of our Chicago dealerships.
Safety
Safety is a key component of every good car because it not only helps you to avoid accidents but also helps you in the event that an accident has happened.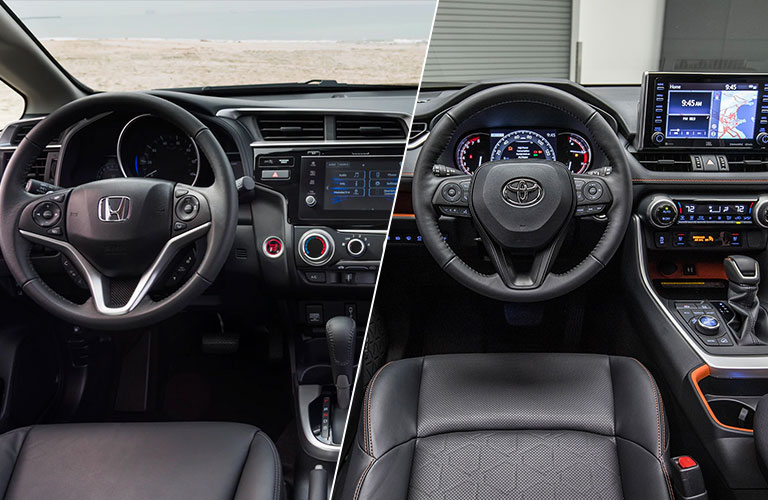 Both the 2019 Honda Fit and 2019 Toyota Corolla Hatchback have a standard set of safety features such as driver and passenger frontal airbags, side-impact head airbags, front seatbelt pretensioners, front side-impact airbags, height-adjustable front shoulder belts, front-wheel drive, four-wheel antilock brakes, electronic stability systems to prevent skidding, daytime running lights, traction control, lane departure warning system and crash mitigating brakes.
Overall design
Interior spacing is one of the aspects that cause potential car owners to pick one car over the other. People want their passengers and them to be comfortable as they ride in the vehicle and not only that but they are looking for a vehicle that can carry luggage when required. The 2019 Honda Fit has an interior space of 95.7 cubic feet, 11.1 cubic feet more than the 2019 Toyota Corolla Hatchback that has 84.6 cubic feet of space. Other areas where the Honda records more space are in shoulder room, legroom and headroom.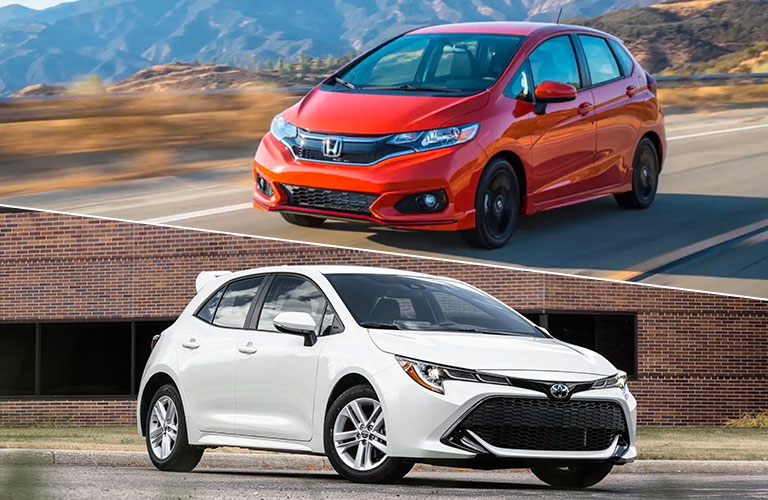 Do you wish that you could park your car at a secure spot during the night and just take a nap after a long drive? The back seats of the Honda Fit are able to recline and offer much-needed comfort when you sleep. This is not offered on the Corolla Hatchback's back seats and you just have to book a motel or fold your legs to fit the back seat when you need to sleep on the road.
The Verdict
Forget about all we have talked about so far and try to make a decision based on this one thing; the fact that it is raining heavily and you need to warm up the engine. I know right! You could give anything for someone to step into the rain to start the vehicle instead of having to get rained on twice. That is not an issue anymore because the 2019 Honda Fit has a remote starting system which allows the driver to power the ignition remotely from inside the house. The 2019 Toyota Corolla Hatchback does not offer this luxury. If you are like most people, you probably settled on the Honda and for good reason. You do not need to feel guilty about it, the Corolla Hatchback is advancing in leaps and soon it might just surprise us all.