An SUV does not have to be a robust looking family vehicle as is evidenced by the 2019 Honda HR-v and 2019 Hyundai Kona. Both these vehicles are built to not only build a reputation for the owner but also offer excellence saving on fuel. The interiors of both cars are also quite flexible and accommodating especially for those whose families and cargo needs are beyond average. Drivers of these 2019 models have a field day every time they are behind the wheel because they have a variety of technology options to engage. Passengers on the other hand never wish for a ride to end because the sophistication and comfort offered in the interiors are simply addictive. We can go on and on about why these two vehicles deserve to be in your driveway but we are going to lay down their individually unique aspects just in case you have to pick one.
Performance
The Honda runs on a standard CVT and having no skips between gears, this car is quite efficient on fuel. This means that the vehicle runs on the peak but uniform horsepower throughout indefinitely but targeting maximum acceleration. Hyundai does not have a CVT. When we compare the standard drivetrain for both the 2019 Honda HR-v and 2019 Hyundai Kona, there does not appear to be much of a difference although it does emerge that the Honda has better fuel economy overall. Other features that deliver on a standard performance for the Honda but which lack in the Hyundai is Hill start assist and Eco Assist™ System.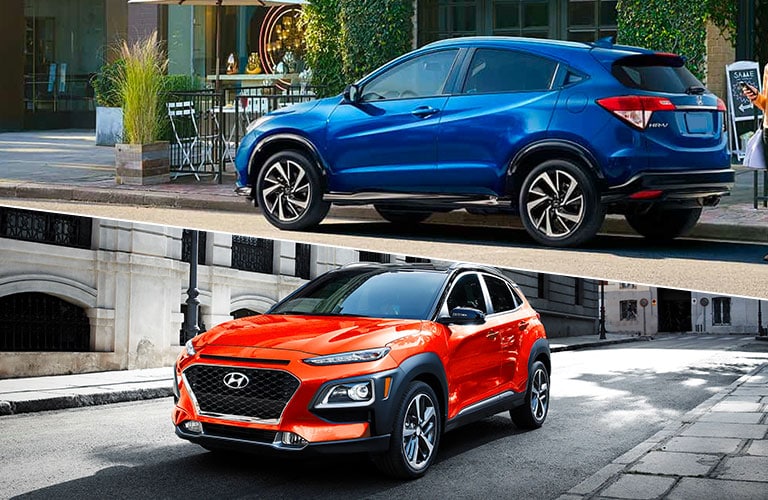 If you are looking for a vehicle that keeps money in your pocket longer, you have found it in the 2019 Honda HR-v which delivers 28 city miles per gallon and 34 highway miles per gallon compared to 27 city miles per gallon and 33 highway miles per gallon for the 2019 Hyundai Kona.
Interiors
These two SUV models are clearly designed for the modern family but you get more if you go with the Honda. While the sitting capacity in both vehicles is 5 people, the Honda offers more legroom and second-row headroom when compared to the Hyundai. If one of your concerns in these cars is if they have extra space for your luggage, relax because the answer is yes. In both vehicles, the rear seat can be folded over to create more cabin space but the Honda can carry more luggage there. Think about 24.3 cubic feet standard cargo room against 19.2 cubic feet, and you have a comparison that is as clear as day. Well, it does not end there because we are talking about space when the rear seat is folded and this comes up to 58.8 cubic feet for the Honda versus 45.8 cubic feet for the Hyundai.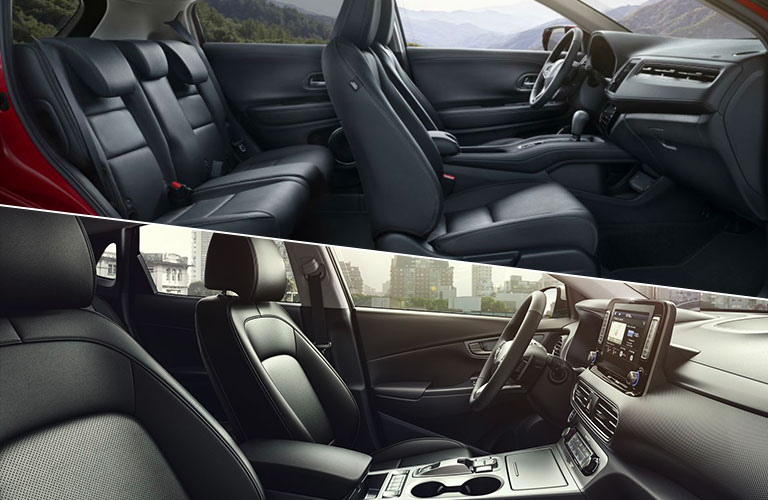 Even if your main focus is on the interiors, it is hard to ignore the outward appearance of the 2019 Honda HR-v and 2019 Hyundai Kona. It is obvious that the design team took time to contour both vehicles but the Honda stands out, easily attracting prospects to buy it.
If you are waiting to hear any squeaks and sounds as you get settled into the Honda, you will be disappointed because the workmanship in the interior is as good as has been done on the outside.
Safety
Safety is of utmost importance when you step into your car and move on to the road where other drivers might not be as keen as you are. Luckily, both the HR-V and the Kona have a set of standard driver and passenger frontal airbags, side-impact head airbags, front side-impact airbags, front wheel drive, front seatbelt pretensioners, height adjustable front shoulder belts, traction control, four-wheel antilock brakes, electronic stability systems to prevent skidding, rearview cameras, daytime running lights, crash mitigating brakes, all-wheel drive, and lane departure warning systems.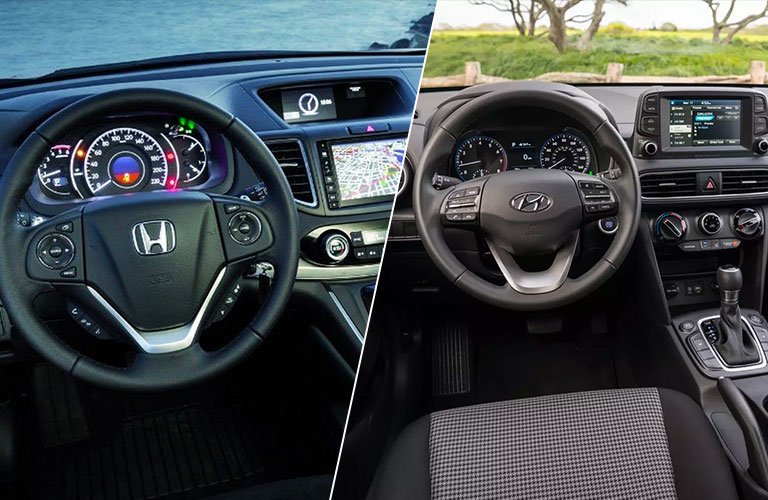 The HR-V has trim levels that give every driver a chance to experience driving on their own terms. With upgraded functional safety features, a front and back bumper, Honda has definitely reduced the noise that the 2019 HR-V produces in relation to its predecessors. In addition to that, the new model has a stepped up gear system that mimics the conventional automatic upon hard acceleration. Wondering what the secret of Honda during bad weather is? Check the AWD system.
The Verdict
Both the 2019 Honda HR-v and 2019 Hyundai Kona are small SUVs but both deliver big on people's dreams. With both selling at an affordable price, offer excellent exterior and interior features, impressive capabilities and top performance, it is a tough race between these two family vehicles. Although by a slim margin, we can all agree that the Honda is a good car based on its fuel economy and more safety features compared to its competitor the 2019 Hyundai Kona.