The 2019 Honda Odyssey and 2019 Toyota Sienna are both built for the safety conscious type of customer. There is so much to do in today's world and the last thing you want to be thinking about as a car owner is how to transport your family in different cars just in case something happens. These two cars offer families the convenience of carrying their entire luggage with them and still allow them enough room to stretch and move their joints during a trip. Today, more than ever, vehicles are not only made to carry you around but can be integrated with smartphones for an experience of a lifetime. Some people swear by the 2019 Honda Odyssey while others believe in the performance of the 2019 Toyota Sienna. That they are both built with a lot of similarities is not a secret, maybe we can identify aspects from either that make them worth a selection over the other;
Performance
With 3.5 liter V8 engines on both minivans, it is amazing how the Honda Odyssey still maintains a performance worth an award. Boasting of a 9-speed automatic transmission against an 8-speed automatic transmission, the Honda Odyssey is rather economical on fuel. Guess what you get with a single gallon of gas? 19 city miles per gallon of the Honda Odyssey against 18 miles per gallon of the Toyota Sienna. The highway fuels consumption still favors the Odyssey at 28 mpg versus 24 mpg.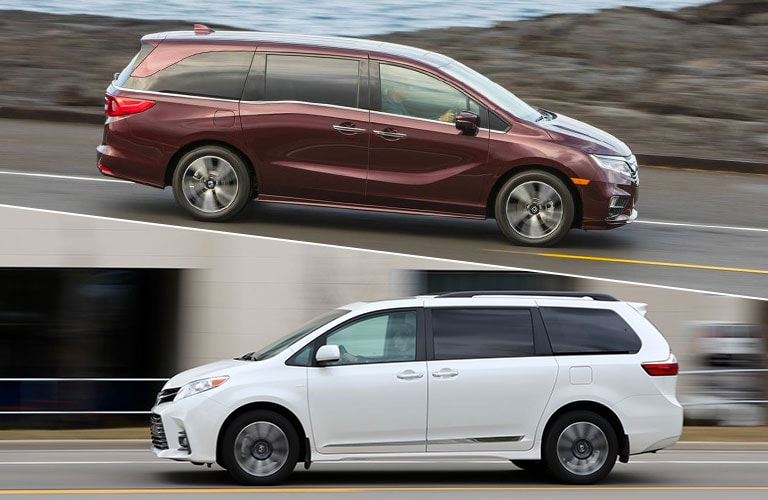 If your only parameter for comparing between the 2019 Honda Odyssey and 2019 Toyota Sienna is cost, the Honda Odyssey definitely fits the bill.
Interiors
Ever been in a position where you love something for its features but you wished some aspects were a bit different to match your taste? Seems like the makers of the 2019 Honda Odyssey factored this on its release. With six primary trims, LX, EX, EX-L, EX-L with Navi and RES, Touring and Elite put in order of additional features, those that are over the LX model come with a pre-installed infotainment system compatible with Android Auto™ and Apple CarPlay™. While the Toyota Sienna does have its own version of an infotainment system, it is not compatible with smartphone apps.
From the outward appearance of both the 2019 Honda Odyssey and 2019 Toyota Sienna, one gets the impression that they are minivans that have been pimped to suit family life. Both have enough space to sit up to 8 people in three rows. Expect the Odyssey to offer 158 cubic-feet interior space against 150 cubic-feet of the Sienna.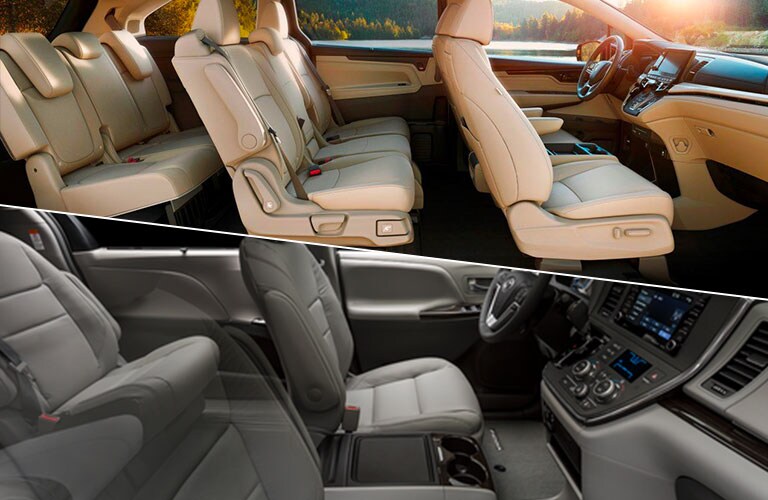 When you put the 2019 Honda Odyssey and 2019 Toyota Sienna side by side, you cannot help but notice that the Honda tries to adopt a modern look around the front face but the Toyota looks like it is walking back into the stone-age. This aging design of the Toyota extends even to the inside of the van because unlike the Honda that is compatible with Android Auto phones, the Sienna cannot accommodate them.
Overall, the 2019 Honda has a wealth of innovative features and families riding in this vehicle will have an entertaining ride every time. The base trim level of the Honda, for instance, offers a rearview camera, 18-inch wheels, a 5-inch color LCD display, automatic climate control, and Bluetooth. If you go for the next trim which is the Odyssey EX, you acquire for your family a vehicle that offers Magic Slide 2nd-Row seat ™, tri-zone automatic climate control, and an 8-inch Display Audio touchscreen infotainment system which is compatible with Apple CarPlay, Android Auto and HondaLink®
Safety
According to the Insurance Institute for Highway Safety, that conducted a front crash prevention test for both the 2019 Honda Odyssey and 2019 Toyota Sienna, the Honda scored a 6/10 while the Toyota scored just 3/10. The two-vehicle models do match up in areas such as driver and passenger frontal airbags, rear cross-path warning, front side-impact airbags, front and rear parking sensors, driver knee airbags, blind spot warning systems, side-impact head airbags, front seatbelt pretensioners, lane departure warning systems, front-wheel drive, height-adjustable front shoulder belts, rearview cameras, plastic fuel tanks, four-wheel antilock brakes, traction control, daytime running lights and electronic stability systems to prevent skidding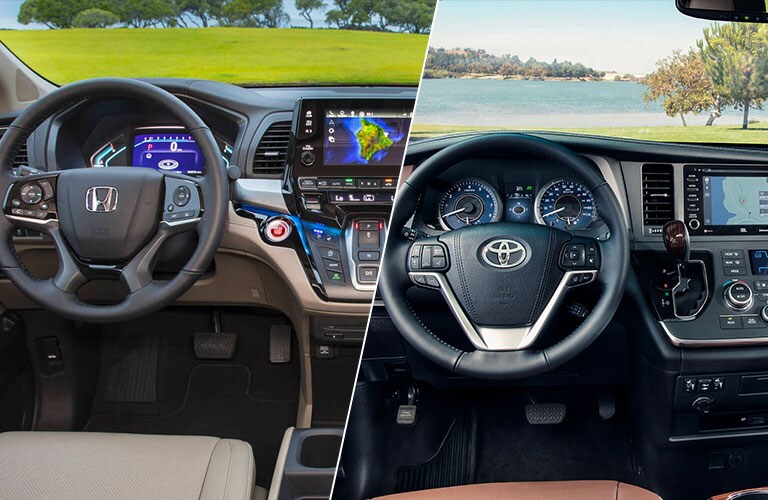 Another test conducted by the Insurance Institute for Highway Safety to assess motor vehicle safety is known as the offset frontal crash test. What happens is that a car is driven at 40 miles per hour then struck from the front at a total width of 25% of the total. The results of this test have indicated that it is safer to be in the Honda Odyssey than the Sienna during a crash.
The Verdict
Either of these two cars is a good choice of car to pick but since we have to pick one, let us settle for the Odyssey. A car designed to match the changing time, the Odyssey outshines the Sienna in infotainment and connectivity to advanced technology.